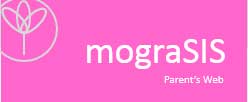 The mograSIS Parent Portal provides secure, self-service web-based access to parents so they are informed about their child's daily progress in school. Parents will benefit from real-time, online access to grade averages, progress reports, homework, missing assignments, announcements, attendance, and discipline information. Parents can communicate the teacher and vice versa. Parents can access the system from any location with an Internet connection.
mograSIS helps keep all stakeholders aware and involved. This enables early intervention by parents, teachers, and administrators
Parent's Web provides your school or academy with a complete communication solution.
The Parent Portal includes online course registration which enables parents and students to select the courses together.